HRV Lite
from $2,699
There are as many different kiwi homes as there are kiwi families. We should know – over the years we've helped more than 500,000 kiwis love the feeling of coming home!

We believe all New Zealanders should live in a warm, comfortable home. That's why we're constantly reviewing our product range and why we're excited to add our most affordable home ventilation system to the HRV family.
Book a free home assessment
Lite on your pocket, not on capability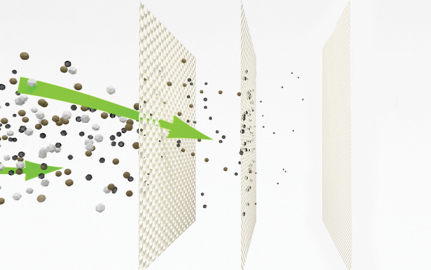 Effective filtration
Our HRV Lite Ventilation system uses a F7 filter, an affordable alternative to our premium F8 Nano fibre filter. This F7 filter removes particles including many allergens from the air your family breathes.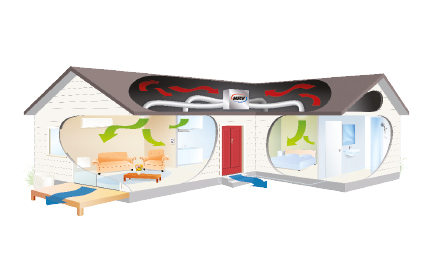 Positive pressure ventilation
Draws drier air via your ceiling cavity, then filters it and delivers it to your home via vents.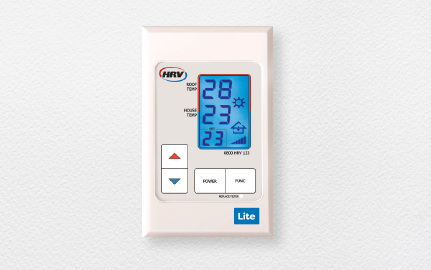 Simple control
You control the system operation and fan speed from a central control panel.
Which system is right for you?
In addition to our HRV Lite Ventilation system, we also offer a premium HRV system that enables more optional extras not available on the HRV Lite system - these include the HRV Heat Transfer Kit and the HRV Summer Kit. If you think you may need or want these, or other features in the future, we advise that you get our more premium HRV system.
Below is a summary of the key differences between HRV Lite and HRV.
Once you're ready, an HRV expert will visit your home to check that your home and ceiling space are still suitable for an HRV system (not all homes are). Once you've made your decision, we will begin installation work, which usually takes a day.
Touchscreen
Filter Type
Filter Life*
Adjustable
Fan Speed
Temperature
Sensors
Automatic
Heat
Recovery
Optional
Heat
Transfer Kit
Optional
Summer Kit
Warranty
HRV
LITE
F7
12 months
Two

Fully Adjustable

Not Available

Not Available

3 Years
HRV
F8 Nano Fibre
24 months
Two

Fully Adjustable

5 Years
HRV
LITE
HRV

Touchscreen

Filter Type

F7

F8 Nano Fibre

Filter Life*

12 months

24 months

Adjustable
Fan Speed

Temperature
Sensors

Two

Two

Automatic
Heat
Recovery

Fully
Adjustable

Fully
Adjustable

Automatic
Heat
Recovery

Not
Available




Optional
Summer Kit

Not
Available




Warranty

3 Years

5 Years
*Based on a typical New Zealand home