Better water quality for Ruakaka School thanks to HRV - 21/05/2015
Thanks to a decent waterway system, the majority of New Zealanders have easy access to clean drinking water. But parts of New Zealand still have problems with getting consistently good water quality. On top of that, most parents still have trouble convincing their kids to drink plenty of water, so anything you can do to get it tasting better is going to be good for your family.
HRV have become a part of the solution, taking their Water in Schools project to Northland. Ruakaka School in idyllic Bream Bay will be one of the first Northland school to have a free water filtration system installed, which means cleaner and better water for the whole playground.
Filtered drinking water for Ruakaka school kids
HRV are installing water filtration systems in 60 schools across New Zealand and Ruakaka School in Bream Bay will be getting theirs very soon.
Already boasting a chicken coop, vegetable garden, fruit trees and a worm farm, Ruakaka School is looking forward to adding filtered water to their eco-friendly school community. But being environmentally friendly isn't just about what we put in the environment, it's also about how that affects our health. Principal Marilyn Dunn says that, whilst there are no issues with water quality in the school, it just doesn't taste any good; "The water out here is revolting [and] the kids deserve better than that".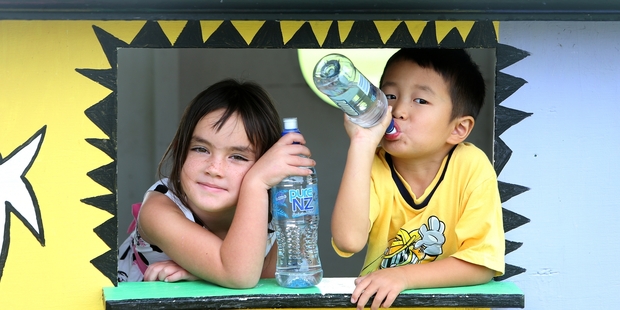 (Lilly Hardisty and Harry Setiawan, both 5, will be filling their bottles with filtered water in the next couple of months. Photo / Michael Cunningham)
Currently, the school's staffroom has the benefit of filtered water, but providing it to the rest of the school was going to be difficult until HRV stepped in. A Total Water Filtration System will be installed by a plumber in the coming months and is bound to improve the rate of drinking water consumption amongst the kids. "If we have a new water system I am sure they will want to drink more" says Ms. Dunn.
Improving water quality for Kiwi kids nationwide
The Water in Schools project is costing around $150,000 and will focus on bettering water quality in communities which have water quality compliance issues. More often than not, those regions facing water quality issues are located in smaller towns and rural areas, just like Ruakaka.
Schools in some of our towns and cities will also participate in the project, as town water supplies going through water treatment plants are not immune to water contaminants. Chemicals like chlorine often remain in the water when it enters a school or a household after treatment.
Water quality an ongoing issue for New Zealand
Water quality has been a hot topic recently with concerns raised about the quality of Rio de Janeiro's waterways in the lead up to the 2016 Olympic Games and some professional surfers have also highlighted the city's water pollution problems during a recent Pro Surfing Event at the city's Barra da Tijuca beach.
Living in a clean, green New Zealand we often forget about our own water quality issues, but are distressed when we see the state of somewhere like Rio. But if you glance through the local paper you'll soon see that clean water and water management is a huge focus for most city councils. 
Lake Tarawera's declining water quality is a concern for the Bay of Plenty Regional Council who are now seeking public feedback on the state of the precious lake, which serves as a drainage centre for neighbouring lakes Ōkāreka, Ōkataina, Rotokakahi, Rotomahana, Tikitapu, Rerewhakaaitu and Ōkaro.
Safe and reliable drinking water is also a focus for the Greater Wellington Regional Council who are aiming for all of their water suppliers to reach an A1 grading. But with our nation's capital still striving for that A1 grade, water filtration at the tap is more important than ever.
Water filtration at home
HRV provides a Whole Home Water Filter system that purifies water before it comes out of your tap or shower. By filtering it before it enters your household pipes, our filtration system can remove up to 98% of chlorine and other contaminants that may have entered your water supply. The result? Better tasting, better smelling, and better feeling water. 
Check out our HRV pure water products or talk to us today to get a FREE water assessment at your place.
Further reading