As winter rolls around you start to think about all the ways to make the chilly season bearable. Warm socks, pyjamas and fluffy bedding resurface, soups and stews are cooked and heat pumps and contained fireplaces are put to good use. But, while we're busy making sure our bodies are warm and bundled up, it's easy to forget that our homes should also have the same treatment.
According to the 2015 BRANZ survey, almost half of the New Zealand homes surveyed had inadequate roof insulation, while under a fifth lacked subfloor insulation. A well-insulated home creates a warmer, drier and more comfortable environment for those who live there. With winter approaching it's important to find ways to keep your home as warm as possible. Read on to learn more about home insulation, as well as other, cheaper improvements you can make to ensure you have a cosy home for you and your family. 
Why is Insulating Your Home Important?
Insulation acts like a barrier around your home that prevents the flow of heat in or out of your living areas by trapping air in still layers. By reducing this movement of heat, it means your home stays warmer in winter by retaining the heat inside like a thermos would. Meanwhile in summer, it stays cool as the insulation prevents your home from overheating, much like a chilly bin.
Although it's an important addition to any home, home insulation New Zealand wide has historically been thought of as optional, with homes built prior to 1978 rarely being insulated[1]. Thankfully, we now know that homes should be well insulated from the start and we have standards that all newly built homes are required to meet. Properly insulated homes are cheaper and easier to heat as the warmth is easily retained. A home that's able to be heated quickly also generally means that it's drier and less prone to dampness and all the problems that can come along with it. Insulating your home means your can fully enjoy your space knowing it's as warm and dry as possible.
Cheaper Ways to Insulate Your Home
The most long-term and effective way to ensure your house is well-insulated is to have proper home insulation installed in your ceiling, underfloor and walls. This will have an immediate effect on your home that should last for decades to come. But while insulation will more than pay for itself over time, initially it can be a very expensive endeavour. Thankfully, if you're interested in some quick and relatively inexpensive fixes for your home, there are plenty of things you can get started with.
Check your windows
Windows are an area of the home that lose heat extremely easily. This is particularly true if the rest of your home is insulated as the warm air seeks out the next best way to escape. To minimise heat loss you should make sure your windows are also insulated. Perhaps the best known way of insulating your windows is by installing double glazing. These windows retain heat inside your home because they consist of two panes of glass with an insulating gas layer trapped between the two. However, double glazing can be expensive, so if your home has wooden frames, opting for a DIY window insulation kit could be the perfect alternative.
Window insulation kits
Insulation kits use window insulation film to create a similar effect of regular double glazing. With the kits, the film creates an insulating layer of still air in front of the glass, similar to the insulating air between the two panes of glass in double glazing. The film isn't applied directly to the glass but is attached to the window sash or wooden window frames with double sided tape. While window insulation film is only designed to last one season, it could last longer if undisturbed. The kits won't work for everyone — your window frames must be wooden and in good condition to get the most out of them — but they can provide a good alternative to double glazing for many. 
Invest in some good curtains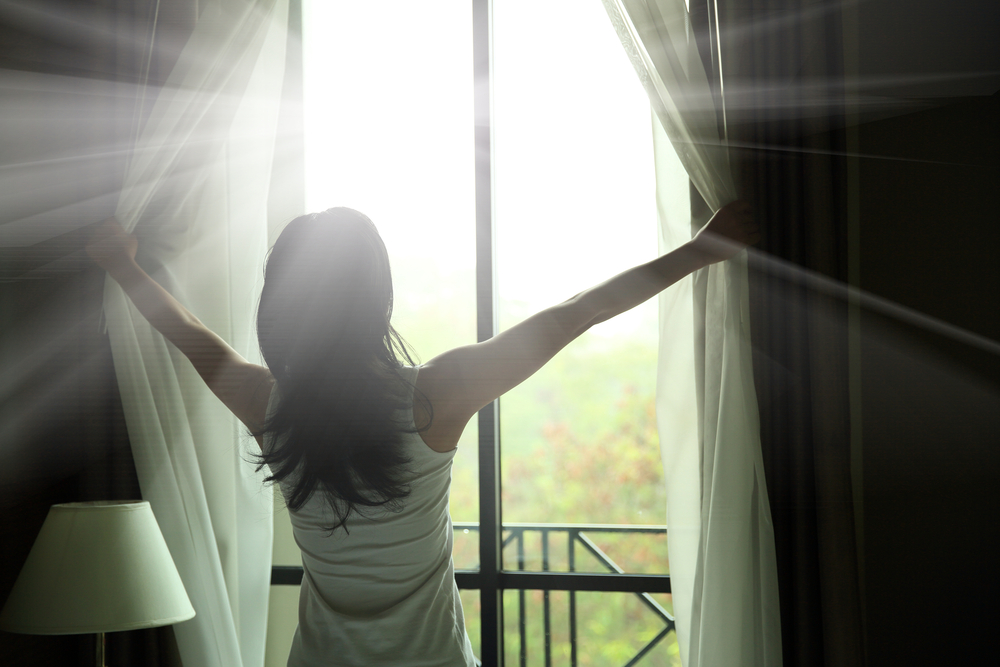 While dealing with insulating your windows, it's the ideal time to check whether your curtains and blinds are performing as well as they could be. A good set of properly installed curtains should noticeably reduce heat loss through windows. When curtains are correctly installed they create a seal that won't allow the cold air near the windows to enter the rest of the room. To make sure you're curtains are doing the best job possible, they should:
Be floor-length and actually touch the floor, or have pelmets above them (a cloth or wooden border across the top of the curtain that hides the fittings) with only a very minimal gap between the curtain and pelmet. Curtains that are only sill-length are generally ineffective.

Fit tightly against the wall or window frame while also being wider than the window frame.

Be double layered with a thermal lining when possible. 
Good thermal curtains can be costly, which is why there are curtain banks set up across the country to help support low-income households. Look online to find a curtain bank in your local area, or enquire at your local Citizens Advice Bureau. Alternatively, you can often find good quality curtains at second hand stores for a great price.
Block any draughts
Along with making sure curtains and window panes aren't preventing a warm environment, you should also block up any troublesome draughts. A simple starting point is to check your home's doors and windows to see that all hinges, catches and latches are OK. Tighten those that have come loose and if they no longer fit in their frames then have them repaired. If the rubber seals around your aluminium windows are damaged, make sure they're also replaced. 
Adding weather stripping will seal up gaps around doors and windows, this can be easily found at your local hardware store, as can clear sealant, which will seal up trims. If you have doors with gaps at bottom, fit a draught excluder — brush strip for internal doors and spring loaded automatic seals for external doors. You can also seal skirting boards and cornices, as well as block unused fireplaces with a rubbish bag filled with shredded newspaper — just make sure the bag is obvious to anyone who might try to light the fire!
Go the Whole Nine Yards: Insulate Your Home
If you're keen to invest in home insulation you should insulate by area of priority. While the ideal solution is insulating your entire home, this is harder to do in existing homes as wall insulation generally requires the removing of the lining or cladding. 
Here is how you should insulate your home by priority:
Ceiling insulation:

In an uninsulated home, around 35 percent of heat loss happens through the ceiling[1] and thankfully it's generally an area that's easy to retrofit with insulation. In most homes bulk insulation can be installed between the joists with a blanket rolled over the top to prevent heat escaping through wooden joists.

Floor insulation:

Uninsulated homes will lose 14 percent more heat through their home's floor[1] and it should be the second area you consider insulating. Floor insulation should be used underneath suspended timber and concrete floors and around the edge of concrete slabs in existing homes where possible. It's also important to put a vapour barrier in place to prevent damage to your insulation and dampness in your home.

Wall insulation:

Up to 25 percent of heat can be lost through the walls of an uninsulated home[1] and you should consider insulating this area once the ceiling and floor insulation is in place. Because wall insulation requires the removal of cladding or lining, the best time to insulate is during renovations.
Hire a professional insulation installer 
When installing insulation it's important to get the job done right to avoid costly mistakes and potential safety hazards. Ceiling insulation can mean working around downlights, which often need a safety gap to prevent fire risk. Meanwhile with floor insulation, care must be taken when working around any foil-based product held in place with metal staples, due to risk of electrocution. Wall insulation should also be done with care, especially around wiring and to ensure it's installed to comply with local building codes. To be certain your insulation is installed correctly, get a professional to take care of it for you. Learn what you should look for in an insulation installer and find one in your area on the Energywise website.
Warmer Kiwi Homes Programme
Insulating your home can be expensive but the Government offers grants for those with a Community Services or SuperGold Combo Card, or those who live in a lower-income area. The Warmer Kiwi Homes programme covers two-thirds of the cost of ceiling and floor insulation NZ-wide and in some communities it's supported by funding that lowers the cost even further. To find out if you qualify for a grant, use the Warmer Kiwi Home tool.
HRV wants all Kiwis to be warm and cosy this cold season. Keep an eye on our articles as we release more tips for getting the most from your home this winter. 
[1] https://www.smarterhomes.org.nz/smart-guides/heating-cooling-and-insulation/types-of-insulation/