Freshen up your home with HRV
Why choose HRV?
Over half a million kiwis come home to HRV
Since we started back in 2003 we've helped more than 500,000 kiwis from one end of New Zealand to the other love the feeling of coming home. Starting with HRV home ventilation, we can now help with heat pumps for warming and cooling, bathroom extractor fans and easy to use panel heaters.
HRV service every step of the way
From the friendly person you talk to on the phone to the trained technician who installs and services your system, everyone you deal with is committed to deliver the same high standard of HRV service. It's how we make sure every one of our customers gets a service experience they love – and why so many people recommend us to their friends.
Unique fibre filtration
HRV home ventilation systems filter the air you and your family breathe through our F8 filter with unique nanofibre technology* before it makes it into your living areas. That means less dust, mould spores and allergy triggers like pollen. It's also why we're Sensitive Choice and Allergy NZ approved.

*HRV premium system only. HRV Lite systems feature an F7 filter.
HRV is powered by Vector
Since 2017 HRV has been part of the Vector Limited group, the company that supplies Auckland with electricity. So when you're dealing with HRV, you know we've got the backing of one of New Zealand's largest engineering and infrastructure companies.
Interested to know what we'd recommend for your home?
Book a free home assessment
Reviews
Testimonials
Very good communication from start to finish. Didn't try to oversell what was needed. Home feels much warmer/drier.
Gary, Manawatu - August 2020
HRV Nelson are always awesome to deal with, they do what they say they will do and arrive when they say they will. The product is good quality and we always install them in our homes. Keep up the good work HRV Nelson, see you next time.
Lisa, Nelson - July 2020
Great service, punctual and professional. All contact was friendly, helpful and prompt. Thanks Angie, Brendon and the 2 installers.
Allan, Hawkes Bay - August 2020
Michael Clark was very professional and explained what he was going to do and also made sure that we still remembered how to use the unit. Thanks very much.
Lex, Canterbury - August 2020
Really well explained by the rep we booked for a quote. Very responsive customer service, quick professional installation. System working really well: no condensation, no cooking smells and my chronic cough is much better - very happy.
Jean, Canterbury - July 2020
I found my meeting with Fiona Harrison, HRV Consultant, to be an excellent experience. The installers Max and Scott were on time, fully prepared, well informed polite and very tidy in their work. The process from the first inquiry to the end of the installation was superb. We are very happy with the effect of HRV in our house.
Rae, Canterbury - August 2020
Very prompt service, friendly and professional HRV consultants. Installation was completed so professionally with no damage to the property. Upon completion, the HRV Manager visited the property to check and review the installation job. I will highly recommended HRV East Auckland to anyone who wants to install the HRV.
Shan, East Auckland - August 2020
Great service was provided by Adrian and the HRV team, it has worked really well over the last month.
John, Nelson - August 2020
A very professional approach to the sale and the install process, I was impressed with how efficient the team was and how clean they left the site on completion, I am very happy with the decision of having a system installed as I could feel a difference in the house on the first night.
Louisa, Manawatu - July 2020
Highly efficient and professional service from beginning to end of the process.
Warren, Hawkes Bay - August 2020
Great communication, left the house clean and tidy. Work in the roof and on the wall where the pads were placed completed professionally mounted. After sales help is available, if I need assistance with anything.
Bruce, Manawatu - July 2020
We are extremely happy with your team's work. It's highly professional work by Avinesh. They have done very clean and tidy work... Avinesh and team even sanitized and cleaned the place completely after finishing the work. We love to recommend HRV to our extended family and friends.
Bharath, Auckland - August 2020
We purchased the heat transfer system... Everything was explained to us in easy to understand format... The unit works exactly as described and compliments the HRV ventilation system that was already installed. Highly recommend Jacques and his team.
Richard, Canterbury - July 2020
We welcomed HRV into our home recently and wow what a difference it has made!! We now have no weepy windows on cold nights and mornings; our house is constantly at a comfortable temperature and it magically looks after itself. The whole process of dealing with the HRV company from start to finish was amazing and so very easy... we are very happy customers.
Sandra and Carl, Hawkes Bay – September 2020
Build a solution that's right for your home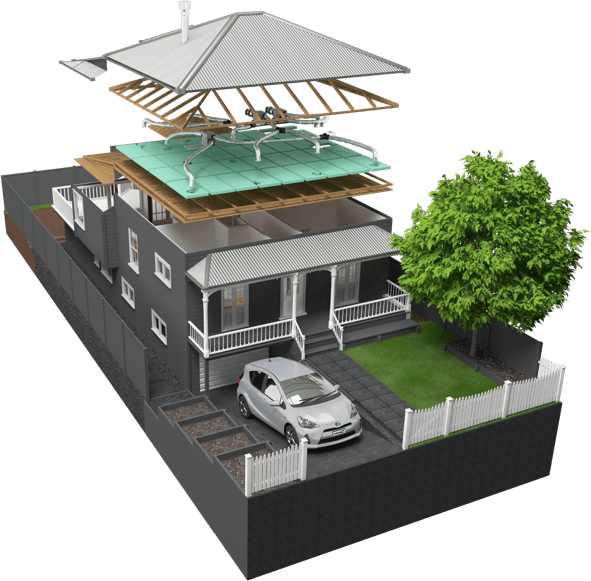 Every New Zealand home and family are different. And a solution that's awesome for Auckland might not cut it in Christchurch. Our Home Solution Generator takes just three minutes and gives you heating, cooling and ventilation options.
Get an online recommendation now
Love the feeling of coming home, all year round
Ventilation Systems, Heat Pumps | HRV New Zealand
HRV New Zealand offer home ventilation systems, heating, heat pumps and more. Get your free home assessment today.