Summer Kit
Cool and fresh all summer long
An HRV Summer Kit is a smart way to help keep your home fresh and cooler in Summer.
Even on hot days, the air on the southern side of your home will usually be cooler. Summer Kit takes that cooler air and delivers it to your home via your existing HRV outlets.

Adding Summer Kit will increase the airflow through your house, making it a great way to fill your home with fresh air without leaving doors and windows open, day or night.

The HRV Summer Kit is an optional add-on to your HRV Ventilation System and is compatible with most models (excluding HRV Lite). You can opt to include Summer Kit at time of installation, or add it later. Not all homes will suit Summer Kit, so please let us know during your free home assessment if you're interested in this option and we'll let you know.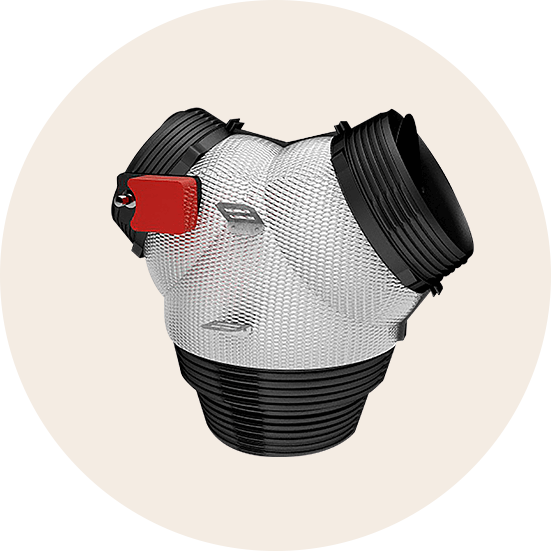 Frequently asked questions
How does an HRV Airsense™ ventilation system work?
HRV AirSense™ is a positive pressure ventilation system* that takes drier air from your ceiling space, filters it and distributes it into the parts of your home that need it.  Its 5-layer WoolCare™ filter has exclusive filtration technology that helps improve your home's indoor air quality by filtering out most of the common asthma and allergy triggers.  

*HRV AirSense™ Balanced is a balanced pressure system, making it ideal for modern homes with tightly sealed windows and doors.

I've just moved into a home with an HRV ventilation system, what do I do?
HRV home ventilation systems are designed to make your home more comfortable. Air from your roof space is filtered and distributed through your home. Our system can help to reduce moisture in your home and, by providing constant air movement, can assist in reducing condensation. In fact, HRV home ventilation is scientifically proven to reduce moisture and mould in your home1.

For more in depth advice on changing settings, take a look at the manual, or talk to our customer service team if you have any questions – 0800 478 123 or online now.



How much does an HRV AirSense™ ventilation system cost?
Each home is different – in size, environment, inhabitants etc. Which is why we come to you to take moisture and temperature readings, which we then use to determine the best solution for your home. Our HRV ventilation specialist will talk you through how everything works, provide a price and if you'd like to go ahead, the installation is planned for whenever suits you.
How does HRV Airsense™ ventilation help to create a more comfortable home?
The HRV home ventilation system installed in your roof space creates positive air pressure* in your home to reduce excess moisture. It also helps to improve your home's indoor air quality by filtering most of the common airborne asthma and allergy triggers from the incoming vented air.

HRV AirSense™ ventilation might not be right for all homes. Book a free home assessment to see if it's right for you.

*HRV AirSense™ Balanced is a balanced pressure system, making it ideal for modern homes with tightly sealed windows and doors.

What's involved in installing an HRV Airsense™ ventilation system?
Your HRV AirSense™ ventilation system is installed by a local team of friendly, professionally-trained electricians. A new power point may be installed if required to connect it and a certificate of compliance is issued for electrical work. They will find a time that's convenient with you for installation. Then your installer will also talk you through how to get the perfect result from your new HRV AirSense™ system.
How do I use Max Fan Mode?
Pressing the Max Fan Mode button on your control panel switches your system to maximum ventilation for one hour. To return your system to its previous setting before the hour is up, just tap the button again. By forcing air and maximising air movement this can assist with clearing bad smells and clearing excess moisture on walls and windows.
Does the HRV Airsense™ ventilation system come with a warranty?
At installation, your HRV AirSense™ ventilation system is warranted for 5 years against fault. In normal use the system will require a filter change every 12 months. Genuine HRV parts are required as part of the ongoing warranty, and to ensure you continue to get the best performance from your system.
Summer Ventilation Kit - Cool Your Home in Summer | HRV New Zealand
Use your HRV Home Ventilation system to cool your home in Summer. Find out How.