Upgrade to the latest HRV technology and you could win your money back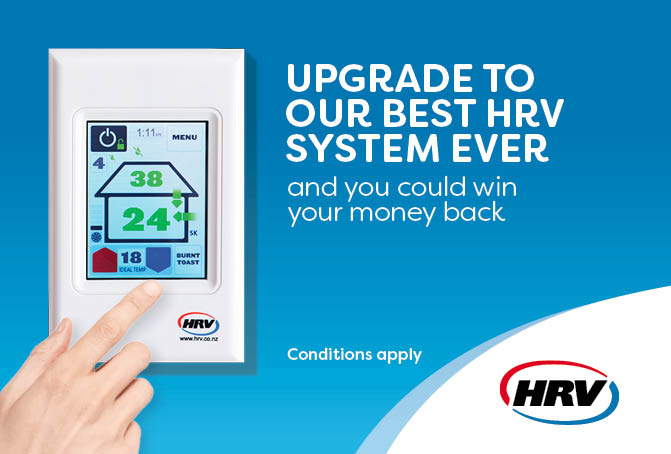 More than 500,000 New Zealanders trust HRV to help them create a drier, more comfortable home.

If your HRV system is from 2013 or earlier, we've got some great news for you.

There are lots of reasons why it pays to treat your family to the latest HRV home ventilation system:



New keypad: Simple, intuitive touch-screen control panel makes it easy to monitor and control your system.


Better functionality: The control system has added features that support better functionality and air movement.


Better efficiency: Our latest German-made motor and fan casing deliver lower operating noise and higher efficiency.


New system warranty: The peace of mind knowing that if anything goes wrong, you're covered for 5 years.


Upgrade to our latest system and you could win your money back.Book your HRV upgrade today.
*Full T&Cs below.


*Terms and conditions



The promotion commences on 3rd February and concludes on 30th April 2020.


Eligible entries are for any domestic household that purchase an upgrade to their current HRV home ventilation system between this period at RRP.


Cristal Air International Limited trading as HRV (HRV), Vector Limited and associated employees and contractors are not eligible to enter.


The prize consists of winning back the value of the upgraded system installed.


Three prizes will be awarded as part of the promotion.


A competition winner for each of the three prizes will be drawn within two weeks after the end of the relevant month within the promotional period (i.e. the draw of the first prize for purchases between 3 February and 29 February will be drawn by 14 March, the draw of the second prize for purchases between 1 March and 31 March will be drawn by 14 April and the draw of the third prize for purchases between 1 April and 30 April will be drawn on 14 May) at 45 O'Rorke Rd, Penrose Auckland.


The winner will be notified by phone or email. In the event the prize remains unclaimed after 1 month, the prize will be redrawn.


Prizes cannot be exchanged or transferred. HRV reserves the right to alter, modify or update these terms and conditions at their discretion, at any time.


Entering the competition constitutes a winner's consent to be photographed and/or for HRV to use his or her name, photograph and their city/town of residence for publicity purposes without compensation. This includes use on HRV's website, direct and social media channels and PR.


HRV is the promoter of this competition.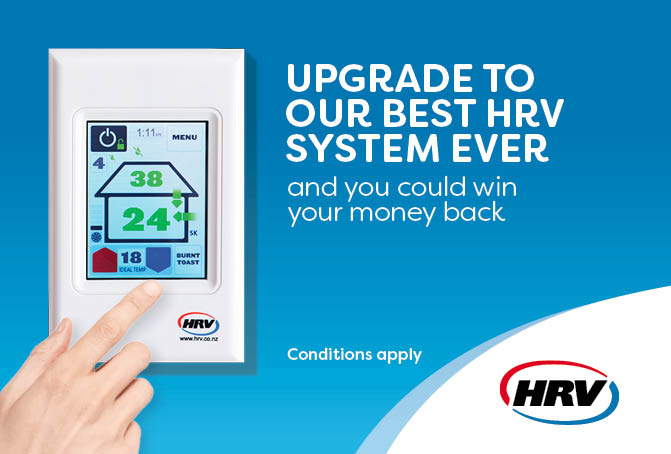 Upgrade to the latest HRV technology and you could win your money back