Heat Transfer Kit
Warmth in every room
Two very important elements to create a healthy home are air movement and air temperature. An HRV and Heat Transfer Kit is designed to deliver on both.
A Heat Transfer Kit enhances the performance of your home ventilation system by moving air from the rooms you heat to rooms that don't have heating. Most New Zealand houses only have heating – whether it's a heat pump, a gas heater or even an open fire – in one or two rooms. That's fine when you're sitting by the heater watching TV, but not so good when it's time to go to bed!

Our Heat Transfer Kit delivers warmer air to unheated rooms through the same diffusers your HRV system uses, delivering a whole lot of comfort without affecting the look of your ceiling.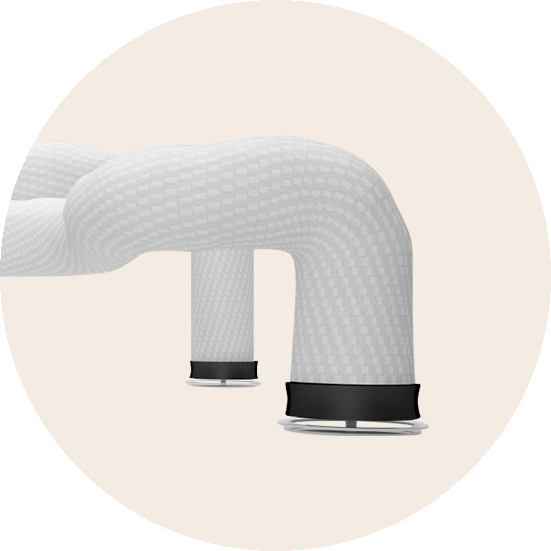 How it works
The HRV Heat Transfer Kit is an optional accessory to our Next Gen Home ventilation Systems. It uses hidden centrifugal fans to take warm air from a ceiling inlet in your heated room to outlets in your unheated rooms.
Frequently asked questions
How does ventilation help to create a more comfortable home?
The HRV home ventilation system installed in your roof space creates positive air pressure in your home to reduce excess moisture. It also helps to improve your home's indoor air quality by filtering most of the common airborne asthma and allergy triggers from the incoming vented air.

HRV ventilation might not be right for all homes. Book a free home assessment to see if it's right for you.
Does the HRV ventilation system come with a warranty?
At installation, your HRV ventilation system is warranted for 5 years against fault (HRV Lite: 3 years). In normal use the system will require a filter change every 24-months (HRV Lite: 12 months). Genuine HRV parts are required as part of the ongoing warranty, and to ensure you continue to get the best performance from your system.
How much does an HRV ventilation system cost?
Each home is different – in size, environment, inhabitants etc. Which is why we come to you to take moisture and temperature readings, which we then use to determine the best solution for your home. Our HRV ventilation specialist will talk you through how everything works, provide a price and if you'd like to go ahead, the installation is planned for whenever suits you.
I've just moved into a home with an HRV ventilation system, what do I do?
HRV home ventilation systems are designed to make your invironment™ more comfortable. Air from your roof space is filtered and distributed through your home. Our system can help to reduce moisture in your home and, by providing constant air movement, can assist in reducing condensation

Take a look here for a quick overview of how the system works and how to use it to best advantage at your new place. For more in depth advice on changing settings, take a look at the manual, or talk to our Customer Service team if you have any questions – 0800 HRV 123 or

online now

.
How do I use Burnt Toast Mode?


Pressing the Burnt Toast Mode button on your control panel switches your system to maximum ventilation for one hour. To return your system to its previous setting before the hour is up, just tap the button again. By forcing air and maximising air movement this can assist with clearing bad smells and clearing excess moisture on walls and windows.
Heat Transfer System - Great Deals | HRV New Zealand
Get more value from your home heating with a HRV Heat Transfer Kit - at a fraction of the cost of a whole-home heating system. See our great deals today.