In the midst of summer, there's nothing more refreshing than the cool blast of air pouring from an air conditioning unit. The reprieve from the stifling heat that air conditioning can help provide may be the ideal addition to your home this summer!
But, while most of us wouldn't dream of doing away with air conditioning in our vehicles — and many of us have units in our workplaces — you may believe that having an air conditioning unit at home is too much of a luxury, but is that really the case? Read on to learn more about the air conditioning systems we offer and how they can work for your home.
Air Conditioning Options For New Zealand Homes
It can be hard to beat the heat during a hot summer, but there are a number of ways you can help lower the temperature of your home and help keep yourself cool. Fans can bring quick relief, as can opening windows throughout your entire house to create a cross-breeze. Although it might feel odd to shut up your home in the warm months, closing curtains or blinds can help keep a room from overheating, especially if it's in direct sunlight.
For options that will help cool a bigger space and keep it at a consistent temperature, an air conditioning unit may be a great option. Or, if you want a system that both cools in summer and heats in winter, many heat pumps — including the Panasonic range — can offer the best of both worlds. With a temperature cooling or fan setting, a heat pump not only helps keep your home toasty warm in the dead of winter but also offers some sweet relief from the summer heat — an appliance that's useful for the entire year.
Even though New Zealand is a temperate country on the whole, there are areas that get incredibly warm and humid. This was especially proven in summer 2017-2018, the hottest one on record. Regions such as Auckland, Nelson and Central Otago consistently have hot summers, and parts of the country — particularly the North Island — experience humid conditions. Humid and hot weather can make regular life difficult to get on with, and cooling Auckland, upper South or North Island homes with a heat pump system can provide some welcomed relief.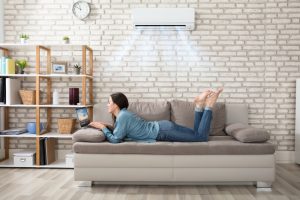 How To Use A Heat Pump In Summer
Despite its name, a heat pump can be used to keep areas both warm or cool, depending on what's needed. This is great for homes that experience both extremes, but also for places where you might expect to mainly use one function, with the other acting as a convenient bonus – air conditioning Wellington homes, for example.
Many Kiwis use heat pumps to keep their home warm during winter, but you may not be quite as familiar with how to use your heat pumps' cooling settings. To set your heat pump to cool you can simply use your system's reverse cycle. This setting means that the heat pump extracts heat from inside your home and transfers it outside, leaving you with a cool, comfy interior.
In order to cool your home as efficiently as possible, there are a few things you can do to make sure your cooling settings are as optimal as possible.
Firstly, you can identify the ideal temperature for a comfortable home. Do bear in mind that setting the system as low as possible likely won't be the most efficient. This is also good advice to remember when choosing the fan setting which disperses the cooled air.
You can also make use of timers to ensure the cooling function is turned on at key times of the day and switches itself off when it's not necessary to be on — such as when the family is out of the house.
Benefits Of Having Air Conditioning In Your Home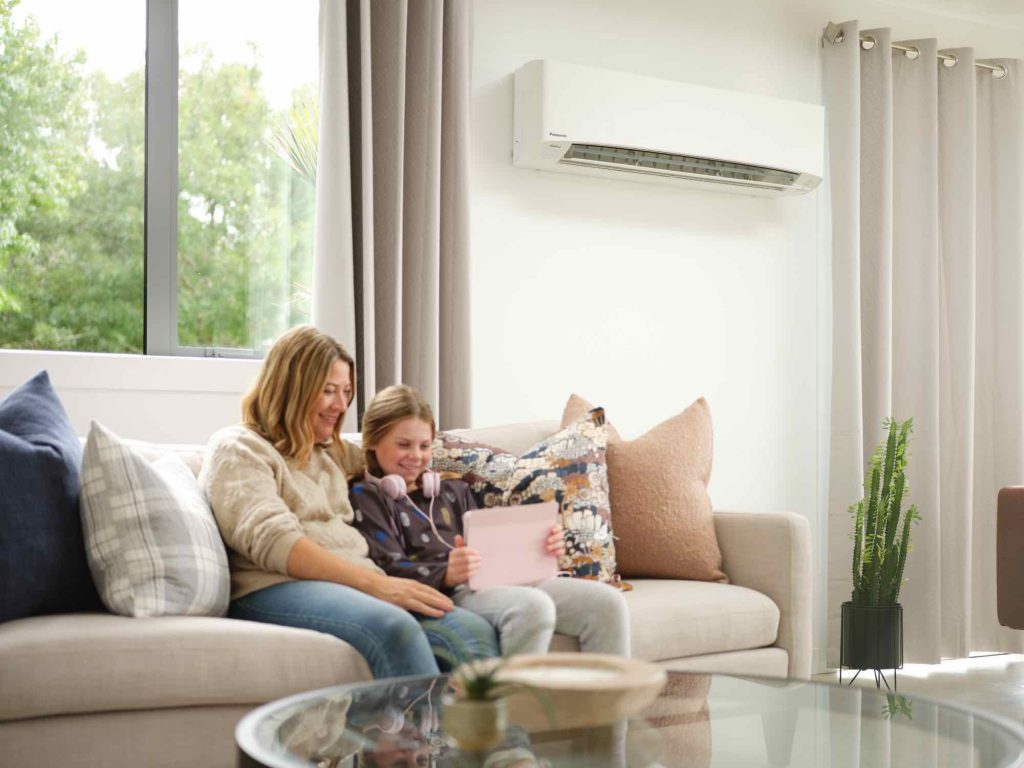 Comfortable nights: Our body needs deep, restful sleep in order to function properly and during the summer months this can be difficult when it's simply too warm and humid to sleep. By cooling down your sleeping environment your body may be able to maintain a normal temperature which means your sleep may be improved.
Peaceful evenings: We often resort to sleeping with windows open during summer, but this also means dealing with outdoor noises from traffic, neighbours and the ever-present summer cicadas. Not to mention potential security threats, and the reality of a room full of bugs!, In-home air conditioning gives you a quiet, cool atmosphere without having to resort to earplugs or leaving your house vulnerable.
Cost Of Air Conditioning
When considering an appliance for your home you'll want to make sure you're fully informed of the costs before investing.
The biggest cost of a heat pump is the initial purchase and installation of the unit. HRV offer different size Panasonic heat pumps depending on where they're being installed, which start from $3,129 for a basic unit, including basic installation. You should weigh up the price of your system against how much you believe you'll be using it year round to make sure you're getting the best option for your house. Our experts are on hand and happy to provide a free assessment that will take into account your home and give you the best options for your family.
You should also consider the ongoing cost of running a heat pump/air conditioner. Obviously this will vary depending on how much your unit is used, but you can also keep costs down by buying an energy efficient system. Our range of Panasonic heat pumps have an Energy Rating of 5.5 out of 6 stars, with an annual running cost of $110.
| | | | | |
| --- | --- | --- | --- | --- |
| BRAND | MODEL NUMBER | SYSTEM TYPE | Heating Capacity | ENERGY RATING** |
| PANASONIC | CU-Z25VKR | High Wall | 3.2Kw | 5 (cooling) /5.5 (heating) |
| MITSUBISHI ELECTRIC | MSZ-FH25VE | High Wall | 3.2Kw | 6 (cooling) /6 (heating |
| TOSHIBA | RAS-10PKVSG-NZ | High Wall | 3.2Kw | 4.5 (cooling) /6 (heating) |
| FUJITSU | ASTGO9KMC-B | High Wall | 3.2Kw | 5 (cooling) /6 (heating) |
*Figures accurate as of 26 September 2018. Energy ratings are out of 6 stars for both cooling and heating.
**Information supplied via EECA – Product details and efficiency ratings are supplied by New Zealand manufacturers and importers who have chosen to register products.
Creating A Pleasant Home Invironment™
Whether it's the middle of a frosty winter, or the height of a scorching summer, your heat pump will work to help keep your home as comfortable as possible year round. With the ability to maintain pleasant temperatures in your house, your family will be able to relax and enjoy their home as much as possible.
Ready to explore your heat pump options? HRV can help you create an in-home cooling solution that works for you and your house. Click here to book your Free Home Assessment today and learn more.