Before buying your heat pump, you likely took the time to consider your options, choosing the right one for your particular needs. However, to really get the most out of your heating device it pays to understand the various features, so you can be sure it will work best for your home and family.
Whether you've owned your heat pump for years, or just had it installed, we've created this article to highlight the best heat pump features to know about to turn you into a heat pump wizard. Forget about waking up to a cold house this winter, read on to learn more about using your timer setting, properly maintaining your unit and other advice to keep your system operating as efficiently as possible.
Panasonic Heat Pumps — HRV's Preferred Partner 
According to Energywise, heat pumps are on of the more energy efficient sources of heating in terms of running cost (cents per kWh of heat released).  If you do opt for a heat pump, it's important to note the Energy Rating Label of your heat pump — the more stars on the label, the more energy efficient an appliance is. HRV is committed to providing our customers with efficient heat pumps that get the job done, which is why we sell Panasonic heat pumps.
It's important to note that star ratings and energy consumption tend to vary depending on which heat pump brand and model you choose. Energy consumption will depend on factors such as the model, how often the heat pump is used, the temperature outside and what time of day you're using it at. Talk to one of your heat pump experts to ensure you're purchasing the best option for your home, and ask for advice on using it efficiently.
When you purchase a Panasonic heat pump through HRV, you receive a five-year warranty. We know that purchasing a heat pump system is an important investment in your home and our five-year warranty offers both protection and peace of mind.
Tips for Efficiently Using Your Heat Pump
Heat pumps are one of the most efficient methods to heat your home[1] but there are ways that will help you use your heat pump wisely.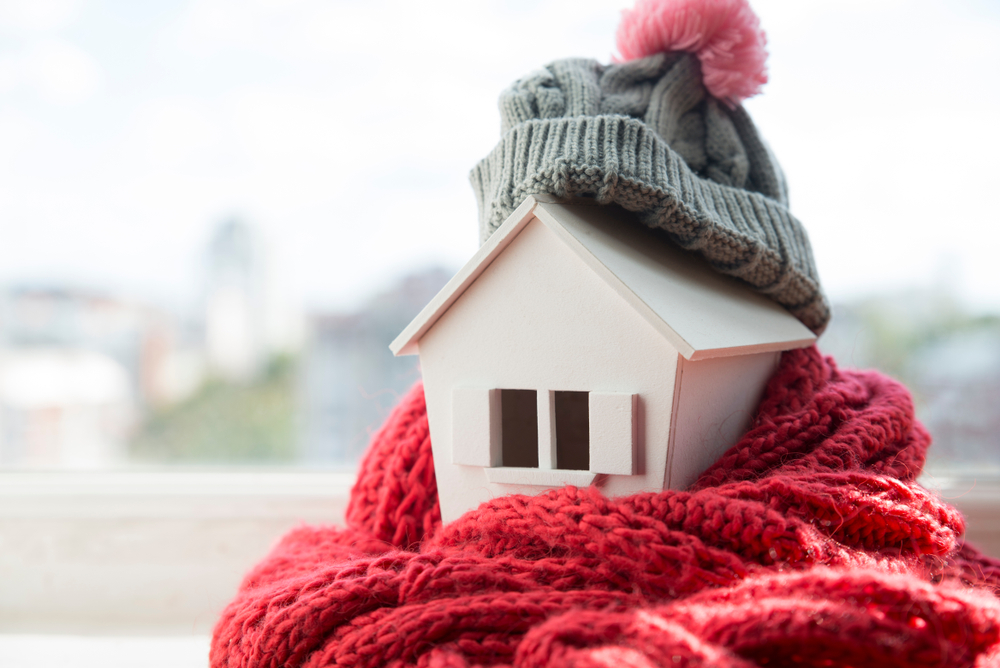 Only use your heat pump when you need it 
Firstly, you want to be sure that you only heat your home when you need it. If you're warming your home to take the edge off in the morning, be sure to turn the system off as the temperature increases in the afternoon when you don't need the extra heat. And, if you're leaving your home for long periods of time, don't keep heating an empty house, instead, use the timer setting (explained below) to switch your heat pump on just before you get home.
Don't heat spaces you aren't using 
Along with heating your home when needed, be sure you're heating spaces you're actually using. Don't bother warming the spare bedroom if no one's using it, instead, shut off doors to unused rooms and close your curtains before sunset, so that the spaces that need heating warm up as quickly as possible.
Avoid Auto Mode 
Although we all love the feeling of warming up in front of a blazing heat, cranking your heat pump up to max may also have a flow-on effect for your power bill! Instead, set the thermostat to a temperature that will keep your home warm — something around 18ºC – 20ºC is usually good [2]. In general, you'll want to avoid the Auto mode and instead opt for the Heating mode. In Auto mode, the heat pump tries to maintain a set temperature and switches between heating and cooling as the room temperature changes to do so. These changes can waste a lot of energy and it makes Auto mode an inefficient way to use your heat pump.
Regularly clean your heat pump filter 
Another way to ensure your heat pump performs efficiently can be easy to forget but cleaning and maintaining your unit is important to remember. Make sure the filter on the indoor unit stays clean and the area around your outdoor unit is clear. If you're unsure about the best way to clear your heat pump filter, we cover that information in more depth further in this article.
How to Turn Your Heat Pump On and Off 
While most people purchase their heat pump to use during a New Zealand winter, it can also be just as useful to you during the warmer months. Unlike heaters or fireplaces, heat pump systems can also be used as air conditioners, making them a great year-round appliance. And, because heat pumps can easily be adjusted, you can simply set the temperature to suit the conditions. Perhaps you want just a little warmth to take the edge off during a cool spring or autumn, or want things a little toastier in winter — no problem!
Forget the days of having to get out of your seat to chuck another log on the fireplace, or fiddle with the dial on the heater, your heat pump comes with a remote. The heat pump remote works within 8m of the unit, so if you ever find you're having issues with the unit responding to the remote, just try moving a little closer, or check the batteries. Additionally, many of HRV's heat pump packages come with an additional WIFI option, allowing you full control of your system from a tablet, PC or smartphone.
When first using your heat pump it's important to think about the conditions you want in your home. It's tempting to put the unit on the highest heat during the coldest winter months but if you want to use the unit efficiently this may not be your best option. The World Health Organisation recommends a minimum indoor temperature of 18°C, though this increases to a minimum of 20°C for homes with sick, disabled, very old or very young residents. Assess which temperature creates the ideal conditions for your family and remember that you may need to increase the temperature as winter hits its peak.
Image from HRV's Panasonic Heat Pump Manual – Basic Operating Instructions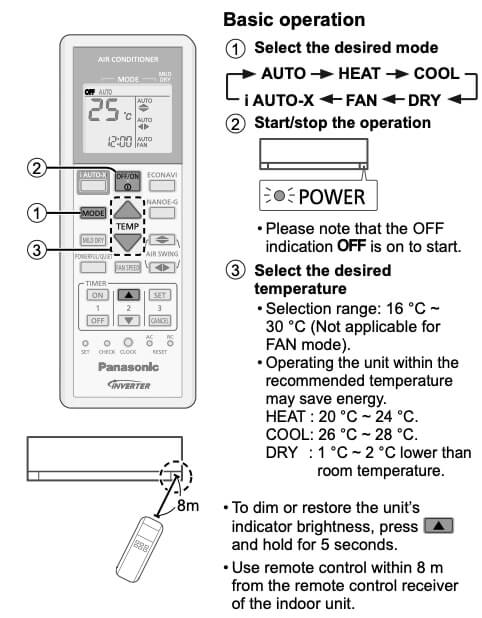 Key Features of Your Heat Pump
While you might already be well acquainted with the basic use of your heat pump, there are a couple of key features that will really help the system complement your lifestyle. There's nothing worse than getting up to a cold home in the middle of winter, or returning to one in the evening after a long day of work and school. This is when the timer setting will really come in handy. The heat pump can be easily programmed to start at particular times of the day and your home will start heating up, even if you aren't there.
In order to use your timer setting, you should find the 'on' button on your heat pump remote, set the time you'd like your unit to start and click 'Set'. Forget getting out of bed to a frosty home first thing in the morning, use that timer setting instead!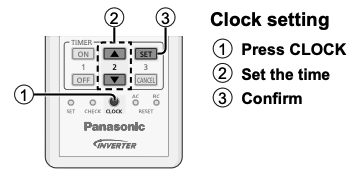 If you have heat pumps installed in bedrooms, making use of your unit's quiet mode will help you get a quiet, warm and uninterrupted sleep. This is the perfect setting for when you want to ensure a constant temperature over the colder months and it's ideal for light sleepers or baby's bedrooms. To use the quiet mode on your heat pump press the 'Powerful / Quiet' button to activate it.
Online Instruction Manuals 
It can be hard to keep track of instruction manuals, so we've made it easy for you by making downloadable manuals available online. In the support area of our website you'll find a huge selection of manuals clearly labelled with images so you can be sure to find the one you want.
Click here to download the Panasonic Heat Pump instruction manual.
Heat Pump Care Tips 
While it's a fantastic idea to become familiar with the different settings on your unit, it's equally important to know how to correctly take care of the system. A properly maintained heat pump means it will continue to keep your home warm for years to come. Fortunately, it's not that hard to keep your system in tip-top condition if you build it into your household routine.
The most frequent maintenance job you'll need to carry out is cleaning the filters on your heat pump. It's recommended that you do this every two weeks, especially in peak season, or at least once a month. To clean them, make sure your heat pump is switched off at the main switch and remove the filters from the unit. You can either vacuum the dust out of the filters or wash them and leave them to dry before putting them back. Clean filters mean the air will flow properly and make your heat pump as efficient as possible.
You can watch this video on how to clean your heat pump:
Even though you should maintain the filters on your heat pump regularly, there are no requirements for the regular servicing of your unit. Each Panasonic unit sold by HRV comes with a five-year warranty, so if you clean the filters frequently and keep the outdoor unit clear of debris then it should continue to perform well.
If you're having an issue with your heat pump that you're having trouble solving, contact our helpful team. The HRV crew are always happy to help with any problem, big or small.
Sources
[1] https://www.energywise.govt.nz/at-home/heating-and-cooling/types-of-heater/
[2] https://www.energywise.govt.nz/at-home/heating-and-cooling/types-of-heater/heat-pumps/#using-wisely