If you're looking for a combination heating and cooling system for your home, a heat pump could be a good option. Don't let the name deter you! Many heat pump models also offer temperature cooling or fan settings.
In winter your heat pump can be set on a timer and on a desired temperature. Come home time, your warm toasty house is ready and waiting for you.
Summer brings welcome relief from the cold winter months, but with it comes hot sticky nights, spent tossing and turning in bed. A Panasonic heat pump can be used at night to keep the home cool and comfortable.
When it comes to choosing a heat pump for your home it's important that you select one that is right for the needs of your home and family. If you live in a warm climate and intend to use your Heat Pump to ease the summer nights, then you will want to make sure it is quiet enough to allow the whole family to sleep soundly. In winter you'll want your Panasonic heat pump to effectively warm the whole house, so it's important to select one that's large enough to do just that.
Types of Heat Pumps
Every home is different and that's why there are multiple heat pump options available to suit your unique needs. Depending on whether you intend to heat your whole house or the main living area, there should be a heat pump option that is just right for you.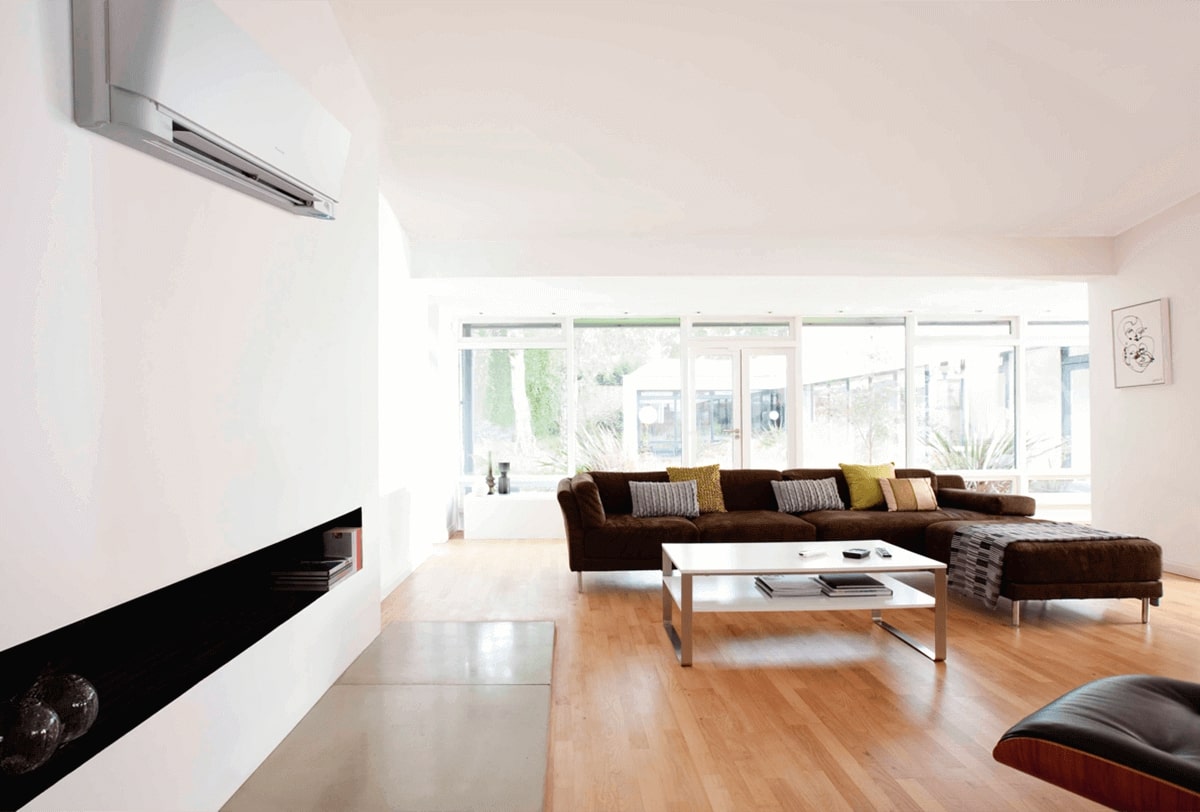 Single Split Systems
Single split system heat pumps operate with a single indoor unit that connects to one outdoor unit. These systems are commonly used in main living areas which they heat effectively. However, a single split system heat pump is not able to heat the entire house alone. It can allow for some heat transfer if internal doors are kept open but this transfer is reduced by long narrow doorways and long hallways. However, single split systems are so popular, many people choose to install multiple systems in their home.
Ducted Systems
A ducted heat pump system works by sending warm air from a system stored in your roof cavity throughout the house via a series of ducts. There is also the option of controlling which rooms you want to heat at any desired times.
Panasonic Heat Pump Range
High Wall
A High Wall Heat pump is a wall mounted option, saving valuable floor space in small homes. It can be helpful for families with young children, giving you peace of mind, knowing that your Panasonic Heat Pump is up and out of the way.
Floor Mounted
If floor space is not an issue or you desire a heat pump that will heat larger areas, then a Floor Mounted heat pump may be best for you. While a floor mounted heat pump may seem obstructive, the modern designs of Panasonic's Heat Pump range are not only slim and elegant but space saving too. The handy child-lock feature also helps to deter little fingers.
Annual Heating Price Comparison
| | | | | |
| --- | --- | --- | --- | --- |
| BRAND | MODEL NUMBER | SYSTEM TYPE | Heating Capacity | ENERGY RATING* |
| PANASONIC | CU-Z25VKR | High Wall | 3.2Kw | 5 (cooling) /5.5 (heating) |
| MITSUBISHI ELECTRIC | MSZ-FH25VE | High Wall | 3.2Kw | 6 (cooling) /6 (heating) |
| TOSHIBA | RAS-10PKVSG-NZ | High Wall | 3.2Kw | 4.5 (cooling) /6 (heating) |
| FUJITSU | ASTGO9KMC-B | High Wall | 3.2Kw | 5 (cooling) /6 (heating) |
*Figures accurate as of 26 September 2018. Energy ratings are out of 6 stars for both cooling and heating.
**Information supplied via EECA – Product details and efficiency ratings are supplied by New Zealand manufacturers and importers who have chosen to register products.
Features of Panasonic Heat Pumps
Panasonic has a great selection of heat pumps on offer, ranging from 2.80kw to 9.00kw units that are available in both high wall or floor mounted styles.
Many of the latest Panasonic Heat Pumps use ECONAVI technology; a Panasonic initiative which aims to reduce wasted energy. ECONAVI is a smart technology that's able to measure how many people are in the room and heat it accordingly. It understands that more people in a room = more body heat heating the room.
Panasonic heat pumps are also made utilising new nano particle technology.
Panasonic Heat Pump Technology – Heating and Cooling
Heat Pumps are pretty clever. Not only do they keep your home snug and warm during the winter months, they also work as a cooling air conditioner in summer. This means that your Panasonic heat pump could be your best friend all year round.
It's a common misconception that the heat pump simply pumps warm air into your home like an old fashioned heater. It's actually a little more complicated than that.
Firstly, the heat pump draws cold air in via the outside system, known as an evaporator. The heat energy from the air is then absorbed by a liquid refrigerant, which converts the liquid into energy dense gas. The gas is then moved through a compressor where it is compressed so much that it begins to heat up. This heated gas is then moved through the condenser and is used to heat the air around the coil, thus in turn, the air is pushed out by a fan and used to heat your home. This is a continuous process that allows your desired area to stay cosy all winter long!
Choosing The Best Heat Pump
Before you select your heat pump it is a good idea that you do some research to ensure that you select the right one for your home, climate and family needs. At HRV we can help you through this process as part of our Free Home Assessment. Depending on the layout of your home, you might need to think about installing more than one heat pump in order to heat different areas of your home sufficiently which our trained technicians can talk you through.
A home ventilation system is also a great accompaniment to a heat pump. Once you have a reliable heating system in place, using an HRV ventilation system can help to ensure that your home stays warm while it is ventilated. Plus the drier the home, the easier it is to heat up.
Find out more about how heating and ventilation can work together to create a cosier home.
What Heat Pump is right for your region's climate?
Some heat pumps are not capable of running in areas that commonly experience extremely low temperatures. This is because they simply don't have the power to work with outside air that gets that cold. Like most major brands, Panasonic's range of heat pumps are all able to perform at temperatures as low as -15°C.
To be sure that you select the most suitable and economical heat pump for you, it's best you get in touch with our HRV specialist to set up a free consultation. Not only will they help to determine the best system for you, they will also work with your needs to ensure it meets your home and your lifestyle.
Installing A Heat Pump
All heat pump installations should be undertaken by an accredited, professional, electrician and a qualified refrigeration engineer. They are the best people to first advise you on where your heat pump is able to be installed, and where it would be of the most use to you.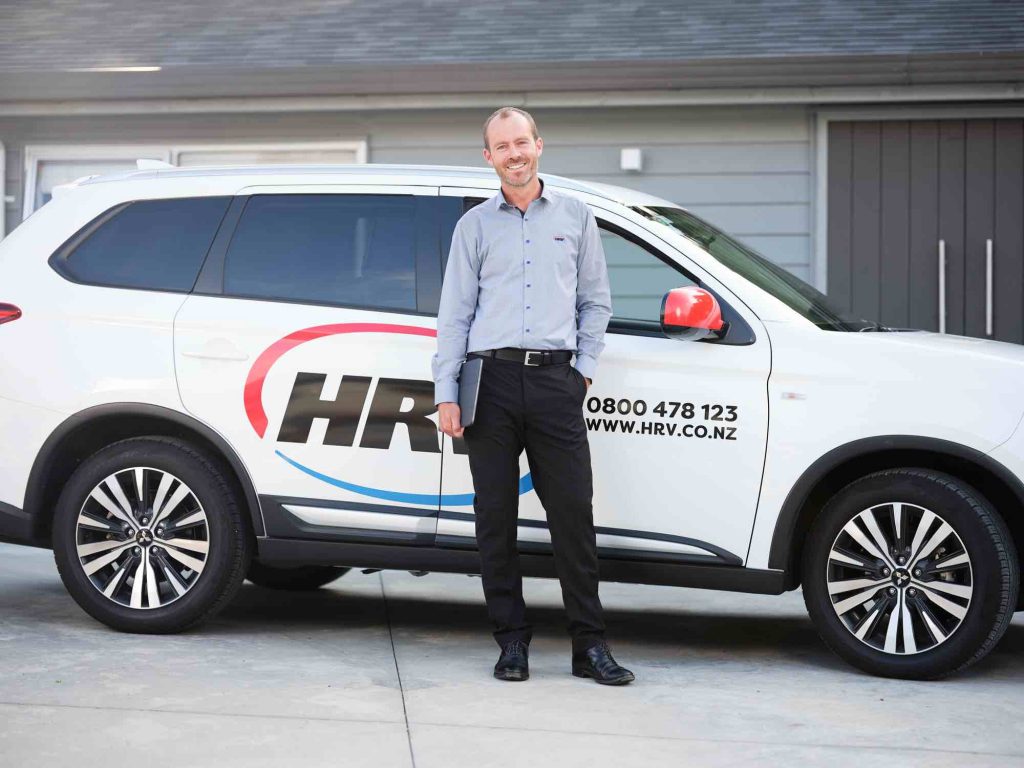 Are Heat Pumps Reliable?
All Panasonic heat pumps are tested extensively to ensure that they are reliable, but also the best they can be. Only through thorough testing can technology be improved.
Panasonic heat pumps are tested for durability by using a continuous operation test. They are tested in conditions far more severe than actual daily operating conditions. This means that when it comes to durability they are designed to last for many years. Panasonic heat pumps also undergo durability testing for compressor reliability, extreme temperature changes and waterproofing.
There are a wide range of tests carried out to maintain Panasonic's high product standards and comply with the International Standards Quality. That's why Panasonic is considered a trusted and reliable Heat Pump brand.
Any Panasonic heat pump purchased from HRV, is covered by a 5 year factory warranty on components and installation, for complete peace of mind.
Contact HRV
HRV operates franchises right across New Zealand so chances are we have someone close by who can carry out the initial assessment, handle the installation and is available for any future maintenance tasks.
If you are considering installing a heat pump to help keep your home comfortable year round then the first step is to book a Free Home Assessment from an experienced HRV Consultant.