Purchase an HRV Ventilation System & receive 50% off an Accessory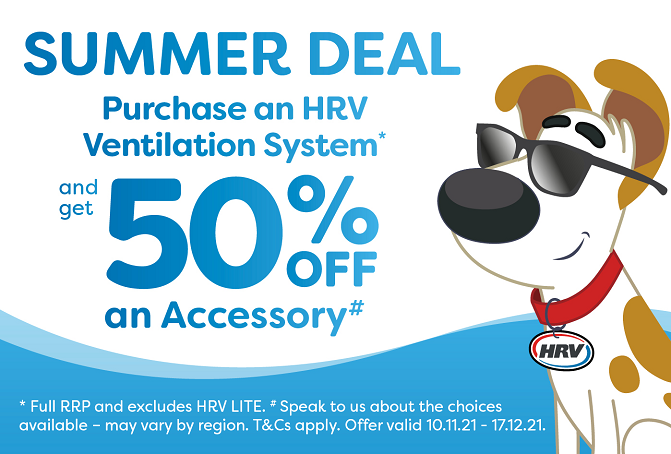 Purchase an HRV Ventilation System* & receive 50% off an Accessory#

*Full T&Cs below.

Fill in your details below and we'll be in touch.


*Terms and Conditions:

The promotion commences Wednesday 10th November 2021 and is valid until Friday 17th December 2021.

#Purchase any HRV Ventilation System at full RRP and receive 50% off the standard fully installed price of an accessory. Speak to us about the choices available - may vary by region.

Only available at participating HRV regions.

To be eligible:

-Agreed quotation cannot include any discounts and/or other non-charged add-ons.

-Your quotation is for HRV Ventilation System which excludes HRV LITE systems.

-Quotation is a new quotation. Any quotation dated before Wednesday 10th November will not be eligible to receive 50% off the above accessories.

One entry per system installed.

Exclusions – HRV Lite, Commercial deals and homes under construction.

Only the following finance offers can be use in conjunction with this promotion:

-6 months no payment and no interest

-12 month no payment and no interest

Additional installation costs may apply following an in-home assessment.

We will always agree any additional costs with you prior to work beginning.

Cristal Air International Ltd trading as HRV, EES and Vector Ltd staff, contractors and their family members are not eligible to enter.

By entering the promotion, you agree to be contacted by Cristal Air International Ltd for any promotional purposes.

Your information may be disclosed to Cristal Air International Ltd and its related companies in connection with the purpose set out in this clause.

Your personal information will be collected and held by Cristal Air International Ltd at the following address: 45 O'rorke Road, Penrose, Auckland 1061.

You are entitled to access the personal information we hold about you, and to request that we amend it if it is incorrect.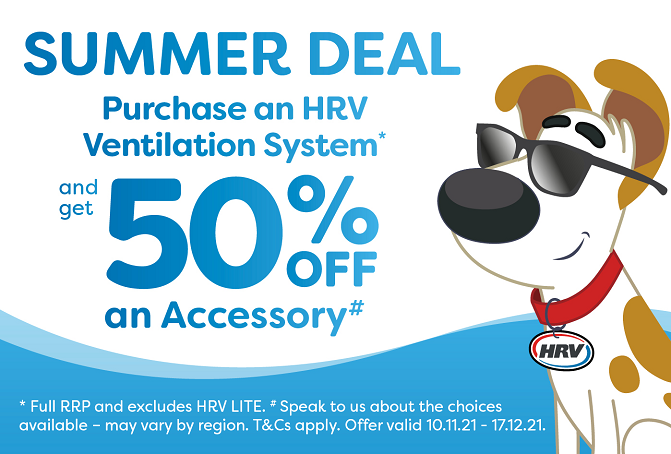 Purchase an HRV Ventilation System & receive 50% off an Accessory